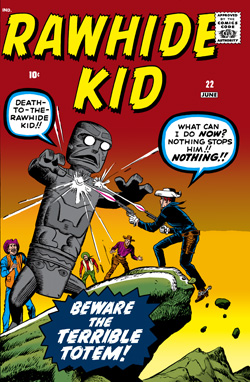 ---
From the Mouths of the Marvels:
"Totem, your words are hollow and your courage is that of a yellow jackal!"

- - Rawhide Kid, to the Living Totem, page 18
---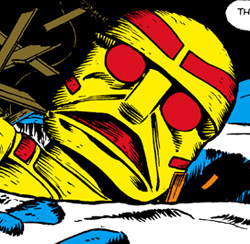 Inspired by Atlas Era monster comics....Arise, the Living Totem!
Rawhide Kid #22
June 1961 • 25 pages + cover
Publication Date: March 7, 1961
Letters Page: No letters page was published in this issue
---
I: Rawhide Kid:
"Beware!! The Terrible Totem!!"
Part Two: "The Totem Strikes!"
Part Three: "Trapped by the Totem!"
Part Four: "The End of the Totem"
Job Number: V-174
Pages: 19
Script: Stan Lee
Pencils: Jack Kirby
Inks: Dick Ayers
Letters: Unknown
Featured Characters: Living Totem, Seth Crane, Injun Tom, Ben Bragg
Settings: Pecos Trail, Bottomless Canyon
Synopsis: Rawhide Kid and Nightwind are racing along the Pecos Trail, on the run from a posse hunting him down. He hides out in a nearby mining operation being run by the sadistic Ben Bragg. Injun Tom warns the crew that they are mining too deep and will incur the wrath of the Living Totem, and sure enough, a giant, walking totem pole menaces the crew. Only the Rawhide Kid has the courage to face him, six-guns drawn. The Totem traps the men in the mine despite the Kid's best efforts, and blocks the entrance so he can make his way to Abilene and destroy the town. The kid digs them out of the mine and chases after the Living Totem, eventually getting him to fall over into the Bottomless Canyon.
---
II: Text Story: "No Guns In Town""
Job Number: F-801
Pages: 2
Script: Unknown
Featured Characters: Pop Hector, Speck Gateson, Ben Hatlitt, Hup Manes
Settings: Pepperville
Synopsis: When Pepperville institutes a "No Guns" policy, Pop Hector and his buddy Speck have to come up with a creative use for their vintage Civil War era Gatling Gun to fend off the evil Hup Manes.
---
III: Western Story: "Slap Leather, Lawman!""
Job Number: V-175
Pages: 4
Script: Stan Lee
Pencils: Don Heck
Inks: Don Heck
Letters: Unknown
Featured Characters: Rand Crass, Jess Harper, Marcy Harper
Synopsis: The Sheriff Jess Harper is an old man with a slow draw, and the only thing he's got to instill fear in the quick-draw thug Rand Crass is his tin badge...but sometimes that's enough!
--synopsis by Gormuu
---
Issues Reprinted
Rawhide Kid #17-25

Click on cover image to learn more about each issue.