---
From the Mouths of the Marvels:
"How can anyone so small and thin hit like that!"

- - Patch, talking about the Kid, page 9
---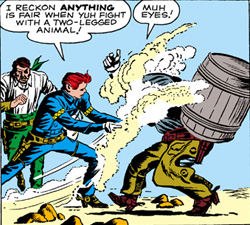 The Kid ain't just about sharp-shooting! He can fling a little dirt when he needs to!
Rawhide Kid #21
April 1961 • 25 pages + cover
Publication Date: January 5, 1961
Letters Page: No letters page was published in this issue
---
I: Rawhide Kid:
Chapter One: "The Gunmen of Sundown City!"
Part Two: "The Kid Fights For His Life!"
Part Three: "The Rawhide Kid -- Outlaw!"
Part Four: "Showdown With Grizzly Younger"
Job Number: V-102
Pages: 18
Script: Stan Lee
Pencils: Jack Kirby
Inks: Dick Ayers
Letters: Unknown
Featured Characters: Ben Carson, Grizzly Younger, Ape, Patch
Settings: Sundown City
Synopsis: Marshal Ben Carson catches up with the Kid and takes him into custody, but on his way to prison, the Kid escapes. Carson's horse rears up on him and he falls, hurting his ankle. Grizzly Younger's gang takes him prisoner and head into Sundown City, since it's a lawless town without its sheriff. The Kid heads back into Sundown City, too, when he hears there is no law there.
No sooner does he get there but he finds himself in a scrape with Grizzly and his gang. The Kid takes care of Grizzly's gang in short order, and when he sees the Kid's prowess, Younger demands he join his gang. But to prove he's part of the gang, Younger demands the Kid shoot Marshal Carson, who's tied up to a chair. The Kid can't bring himself to murder in cold blood, and he fights back against the Younger gang. He helps Marshal Carson escape, and together they take care of Grizzly and his gang of thugs.
> Marshal Carson lets the Kid escape for helping save him and the town of Sundown City.
---
II: Text Story: "The Ghostly Prints""
Job Number: K-151
Pages: 2
Script: Unknown
Featured Characters: Rufus Barton, Joe Bigart, Len Wadsworth, Walt Kubik, Brad Harvey
Settings: Deep Gulch
Synopsis: Rufus Barton has to endure a bunch of loose talk from his friends about ghosts roaming through the prairie, and is forced to reveal his secret!
---
III: Western Story: "The Gunslinger!""
Job Number: V-103
Pages: 5
Script: Stan Lee
Pencils: Don Heck
Inks: Don Heck
Letters: Unknown
Featured Characters: Seth Brown, Grimes, Slim, Flash/Bat Barton
Synopsis: The cattle russler Grimes hires a gunslinger to protect him from Bat Brown, the brother of a man he shot to protect his villainous secret.
--synopsis by Gormuu
---
Issues Reprinted
Rawhide Kid #17-25

Click on cover image to learn more about each issue.