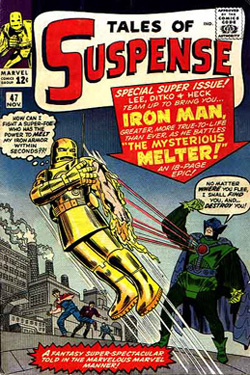 ---
From the Mouths of the Marvels:
"What's the matter with me? I'm still not helpless! I've still got the greatest weapon in the world...a human brain!"

- - Tony Stark, trying to figure out how to beat the Melter, page 9
---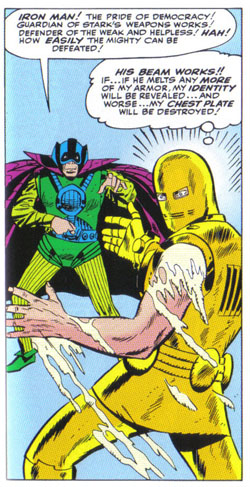 Just Imagine The Melter as: Linda Richmond!
"Won't you just look at that Iron Man...isn't he just like buttah? I'm all verklempt now! Talk amongst yourselves...I'll give you a topic: Iron Man is neither Iron nor a Man. Discuss!"
Iron Man from Tales of Suspense #47
November 1963 • 18 pages
Publication Date: August 8, 1963
Letters Page: No letters page was published in this issue
---
I: Feature Story: "Iron Man Battles The Melter!"
Job Number: X-448
Pages: 18
Script: Stan Lee
Pencils: Steve Ditko
Inks: Don Heck
Letters: Artie Simek
First Appearance: The Melter/Bruno Horgan, Chuck (work crew foreman), Miss Glitter
Villain: The Melter
Guest Appearance: Happy Hogan, Pepper Potts, Chuck
Origin: The Melter
Cameo Appearance: Miss Glitter
Iron Man Tech: jet blowers
Synopsis: A former competitor of Tony Stark's named Bruno Horgan is on a rampage as the costumed villain called The Melter. He is secretly sabotaging Stark's weapons, which proves very embarrassing when Stark unveils them in front of military brass. Checking on his inventory, Stark is beaten down by the Melter, who happens to be on the site to yet again destroy some of Stark's work. As he stands over Tony's unconscious body, he reflects on his origin as the Melter....
Bruno Horgan was an industrialist competing with Stark, when Stark turned in reports showing that Horgan was doing substandard work on his defense projects, thus losing valuable contracts and esteem in the industry. Soon after, Horgan accidentally stumbled into discovering a method of melting iron with a beam of light. He took the melting beam and configured it into a weapon, and established the identity of the Melter to get revenge against his enemies, including Tony Stark. After reflecting about his origin, he leaves Stark behind so he can continue toying with him at a future date.
Later, Happy Hogan recovers Stark and takes him back to his office. In private, Stark plugs in his chest plate begins to convalesce. While he restores his energy, the Melter makes another run at Stark's facility, and Iron Man springs into action to stop him! The Melter has nearly ruined a large generator when he is set upon by Iron Man. The Melter turns his melting beam on Iron Man's armor and completely melts off the armor surrounding his left arm! Stunned by his sudden vulnerability, Iron Man beats a quick retreat before the Melter can do any more damage, using some magnets to break open a steam pipe to chase the villain away.
Stark turns his attention to repairing the damage the Melter has afflicted to his machinery - and his reputation! He is called to Washington where he gets an earful from Pentagon defense appropriators, all of whom are skeptical of Stark's excuses that the Melter is the reason why he is having trouble delivering a reliable product. Back at his plant, Stark decides to don his Iron Man armor to help clear away the wreckage left in the wake of the Melter's rampage, but he also resolves to take the fight to the villain so he can get his life and reputation back. While he's working at his site, the Melter spots him and is emboldened to wage final battle against Iron Man!
He saunters up to Iron Man and completely melts the large metal scrap he holds over his head, and after Iron Man uses his jet blowers to push the substance off his armor, the Melter turns his beam onto Iron Man once again. This time, however, it is having absolutely no effect! Astonished, the Melter tries to escape by melting a crane that holds a large boulder, and just happens to be hanging over Happy and Pepper! After Iron Man saves them, he chases the fleeing Melter. But after a brief showdown, the Melter burns a hole into the floor and escapes into the water currents of an underground tunnel system. Iron Man has no clue if the Melter has escaped or drowned, and he worries if he will be able to trick him once again next time they may meet - for this time, Iron Man was wearing a substitute suit of armor, made not of iron, but aluminum! Thus, it was impervious to the Melter's lethal beam.
--synopsis by Gormuu
---
Issues Reprinted
Iron Man from
Tales of Suspense #39-50

Click on cover image to learn more about each issue.