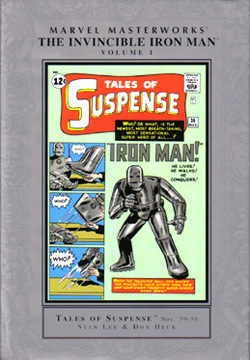 Iron Man Masterworks Vol. 1
Regular Edition Cover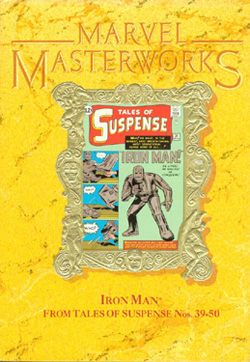 Iron Man Masterworks Vol. 1
Variant Edition Cover
Click panels for larger images _________________________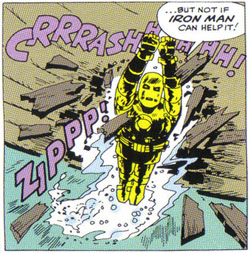 (Click panels for larger images.)
_________________________

ADVANCED IRON
The original, longest-running, and greatest Iron Man fan magazine in the world - online!


BOB LAYTON OFFICIAL WEBSITE
Take a look at the website of perhaps the definitive Iron Man artist.


THE POWER OF IRON MAN
Another cool fansite with a focus on Iron Man's armor.

_________________________
PRINT HISTORY &
COVER GALLERY
Original 27
First print: 9/92

---
Marvel Masterworks: Iron Man Volume 1

Reprints: Iron Man in Tales of Suspense #39-50

(Vol. 20 in the Marvel Masterworks Library)

Extras: "All About Iron Man" backup from Tales of Suspense #55 (Five pages)

Most Recent Print Edition: 2nd Edition, First Print
Original Release Date: 11/5/03

THIS VOLUME IS NOW OUT-OF-PRINT (click for MORE INFO)

REGULAR EDITION ISBN: 0-7851-1186-7 • List Price: $39.99
VARIANT EDITION ISBN: 0-7851-1282-0 • List Price: $44.99
VARIANT PRINT RUN: 390

197 Pages

Scripted by Robert Bernstein, Stan Lee and Larry Lieber

Pencilled by Don Heck, Jack Kirby and Steve Ditko

Foreword by Stan Lee

On Sale: MASTERWORKS LIST
---
Who? WHO? WHO?!?!?
That's the dramatic question asked on the cover of Tales of Suspense #39, and I'm sure the loyal buyers of that title thought they had the answer figured out. Inaugurated in the pages of the erstwhile monster mag, Iron Man had to come off as yet another monster. After all, the cover further goes on to state "He lives! He walks! He conquers!" which is verbiage normally reserved for the Fin Fang Fooms and Monstros of the comics universe, not for Thor or Ant-Man or Mister Fantastic. But you cannot judge a book by its cover, and this Iron Man was no monster, no sir! He was all hero, inside and out! And he would carry his adventures through the pages of Tales of Suspense (with those aforementioned monster stories serving as backups) for almost two years until Captain America would show up to split the title with him. But in these relatively brief, 13-page adventures, we got to know the earliest incarnation of Iron Man and his alter-ego Tony Stark, and he was no monster!
Playboy, international jet-setter, arms dealer, technological genius.... these are only a few of the words that can describe Tony Stark, the human component of the mechanical giant. Before Iron Man, there was Tony Stark, and it was in his capacity as a weapons developer for the Vietnam War effort that he got into the kind of trouble that only Iron Man could get him out of! As Tales of Suspense #39 so ably tells the story, a trip to Vietnam led to Tony Stark becoming a casualty of a land-mine, shrapnel lodging itself ever so close to his heart. Kidnapped by a communist thug and held to spend his dying days developing weapons for the commies, Tony Stark instead invents the means with which he will stay alive: a chestplate that is powered by that greatest of Stark invention, heavily-magnetized transistors! It is these magnetic transistors that keep the shrapnel from moving closer to his heart, and thus keep him alive. I hope I'm not spoiling the rest of that story by telling you that Iron Man defeats the commie thugs and escapes his Vietnamese prison, but the far more interesting story is one that will be told over the intervening decades of Iron Man comics, and that is Tony Stark's inability to escape the prison of his armor, as well as defeat the demons that come from within.
But those stories will have to wait, as for the most part, Tony Stark is mainly a wheeling, dealing, debonair kind of guy in these pages. His main struggle is to constantly keep up with rejuvenating his chestplate with electricity, the life-saving energy that helps him stay alive. This means displaying what must seem like erratic behavior to his friends and associates, inclduing abrupt ends to important meetings, unexplained disappearances, and aborted dinner dates. What we read in this volume is the prelude to Stark's eventual breakdowns. We witness the kinds of events that will wear him down like water against rocks, slowly burnishing a good and decent man with super-heroic power into a depressed alcoholic. We can read in-between the lines of the rollicking, good-times in Tales of Suspense #39-50 and easily foretell the future events where Marvel writers take the tragic qualities of Tony Stark up a notch.
The early days of this title were a creative football. Like Thor in Journey Into Mystery, there were many different artists and writers who told his early stories, but unlike Thor, they were of a higher caliber. Jack Kirby did a few issues, as did Steve Ditko, but it was mainly Don Heck who provided pencilled pages for Iron Man. And Robert Bernstein's scripts for the first several Iron Man issues seemed to have a bit more creative spark than the ones he was turning in for Thor. In the latter issues collected in this volume, Stan Lee came on board to take the creative reins and Iron Man really started to click. The only major villain introduced in the first dozen Iron Man stories is the Crimson Dynamo, a Cold War counterpart to the armored Iron Man (that is, unless you also want to count The Melter, who bowed in ToS #47. Do you reallywant to count The Melter?)
Also introduced in this volume are two of the longest-standing members of Tony Stark's supporting cast: Happy Hogan, an ex-pug who never smiles, is introduced as a lug with a heart of gold and total loyalty to his boss. Happy is also caught up in a love triangle with the other major character in Tony's life, Pepper Potts, the saucy secretary who pines for the attention of her boss, the playboy Tony Stark, but has to fight off the advances of his chauffeur! Both Happy and Pepper are in the series for the long haul, and their introductory tales are very important stories that set up their character development.
There aren't necessarily any legendary stories in this book, save for the triumphant origin story in Tales of Suspense #39, but for any Iron Man fan it is essential reading. In the first twelve stories alone, there are three armor changes, from the blocky, old-school gray armor, to the blocky, old-school yellow armor (yellow to four-color comics afficionadoes, but "gold" to the star-struck starlets who love Tony Stark and Iron Man!) And finally the beginnings of the classic red and gold armor that went through several permutations of its own. Iron Man's tech-savvy fans can also see the crude and clunky progression of his armor, as a simple suit of armor outfitted with transistors to a collapsible suit of high form and function. His weaponry is still extremely limited in these early stories, but it's a hoot to watch the writers come up with new additions to the kitchen sink. This is a fun, fun book.
-- by Gormuu
-- panel images provided by Avengers Assemble
---
Issues Reprinted
Iron Man from Tales of Suspense #39-50

Click on cover image to learn more about each issue.