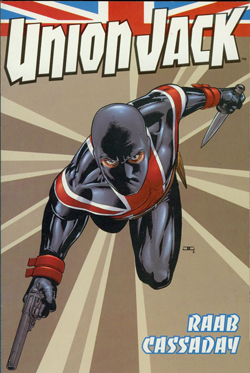 _________________________
From the Mouths of the Marvels:
"Come out, ya bloody, undead bat!"
-- Union Jack, from Union Jack #3
_________________________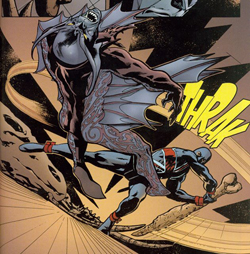 Union Jack employs a dinosaur bone against his undead foe.
(Click panels for larger images.) _________________________
Featured Characters:
Union Jack/Joey Chapman
Kenneth Crichton
Spitfire/Jacqueline Falsworth Chricton
Baroness Blood
Romany Wisdom
Nigel Grinchgibbons
_________________________ From the Back Cover:


TRADITION.

Born the symbol of a nation and a sacred legacy handed down from generation to generation, Union Jack is the people's hero.

Representing the indomitable spirit of Great Britain, he fights for God and country...for England and the world!

Armed with a silver dagger and Webley .455-caliber pistol, Joey Chapman is the latest countryman to take up the mantle. A reluctant hero, Chapman assumed the righteous role following the passing of Lord Falsworth, the original Union Jack.

Undead activity is on the rise in England. When a friend is felled by a vampire's bite, Union Jack takes up the trail. But this brood of blood-suckers does not seek simply to feed: Its members are on the hunt for the most coveted icon in all of history, the Holy Grail, hoping to stimulate evolution among their population. Now, with another friend infected, Union Jack must turn back the vampiric onslaught or risk the lives of all he holds dear!
Union Jack
---
Reprints: Union Jack #1-3

List price: $11.50 (US) • $18.50 (Canada)
ISBN: 0-7851-0934-X
96 pages

Current In-Print Edition: First Print
Original Release Date: 4/24/02
---
Buy From:
TALES OF WONDER: $8.04 • AMAZON USA: $11.50
AMAZON UK: £5.78 • AMAZON CANADA: $14.80

---
WANT TO DISCUSS OR REVIEW THIS BOOK? Visit us at the MarvelMasterworks.com Message Boards at the DISCUSSION THREAD!
---
Union Jack #1-3
Script: Ben Raab & John Cassaday
Artwork: John Cassaday
Colors: Dave Stewart
Letters: RS & ComicCraft
Editor: Tom Brevoort
Union Jack #1: "Tradition"
32 pages • December 1998
Joey Chapman, the new Union Jack, finds out there's a burgeoning cult of vampires trying to track down the Holy Grail, of all things! Unfortunately, they're after his best friend Kenneth Chrichton, son of the WWII legend Spitfire, Lady Jacqueline Falsworth-Crichton. He has no idea why, but is sure the battle will lead to blood!
* * *
Union Jack #2: "Faith"
32 pages • January 1999
Union Jack continues to play detective, rounding up help from paunchy curator Nigel Grinchgibbons and his brilliant ex-girlfriend Romany Wisdom. But his friend Kenneth is now under the sway of the Baroness, sucking him into her evil plot and transforming him into the new Baron Blood.
* * *
Union Jack #3: "Fate"
32 pages • February 1999
Kenneth meets his fate in final battle at a gala Christmas party thrown by Lady Crichton, as Union Jack tries to stop the Baroness from using the Holy Grail to adapt her vampirism into a set of lethal new abilities.
---
-- synopsis by Gormuu
---