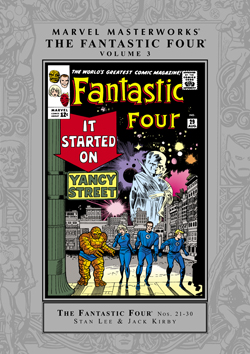 Fantastic Four Masterworks Vol. 3
Regular Edition Cover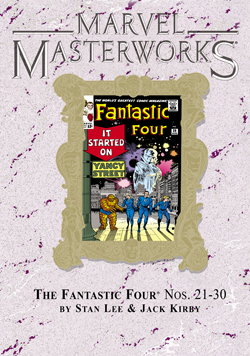 Vol. 13: Fantastic Four
Variant Edition Cover
Click panels for larger images _________________________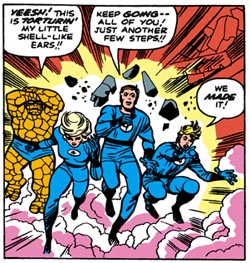 Click panels for larger images
_________________________

FANTASTIC FOUR CHECKLIST
From Nov. 61 to today! Every issue is noted at the ultimate FF checklist website!
FF PLAZA
Lots of great comics reviews about the original Marvel foursome!
_________________________
PRINT HISTORY &
COVER GALLERY
Original 27
First print: 9/90

---
Marvel Masterworks: Fantastic Four Volume 3

Reprints: Fantastic Four #21-30

(Vol. 13 in the Marvel Masterworks Library)

Current In Print Edition: Second Edition, First Print
Release Date: September 24, 2003

REGULAR EDITION ISBN: 0-7851-1182-4 • List Price: $49.99
VARIANT EDITION ISBN: 0-7851-1281-2 • List Price: $54.99
VARIANT PRINT RUN: 500

295 Pages

Scripted by Stan Lee

Penciled by Jack Kirby

Foreword by Stan Lee

On Sale: MASTERWORKS LIST
---
The Fantastic Four take on Hitler! If there's one thing that can persuade you to check out the following ten issues of the Fantastic Four, it's this: they fight Hitler, in the guise of his forward-in-time, hooded, Hate-Monger alter ego. If by some stretch of the imagination that doesn't move you, let me toss out a few more names: The Hulk. The Avengers. Dr. Strange. The X-Men. The Watcher. Nick Fury. Red Ghost and the Super Apes. Diablo. The Mad Thinker and his Awesome Android. The Sub-Mariner. Dr. Doom. The Mole Man. They're all here, jammed, packed and otherwise eloquently crammed in these ten issues!
The first Fantastic Four volume showed experimention with the tone of super-hero comics. The second worked out the bugs. By this, the third volume, Stan Lee and Jack Kirby have full knowledge of the characters and their world. Like the Beatles 'middle period', this represents a period of refined consolidation,a somewhat conservative time where they hone what they have already made strong about their craft beforethey really let loose with the explosive experimentation.
You'll find fewer experiments here. For one thing, we have a lot more returning characters than new ones (the Red Ghost's reappearance is almost a note-for-note remake of his original story, the Watcher included!). There are only three new villains and none strong enough to attain legendary status: the Hate-Monger never appears again (although John Byrne would use a variation in the book two decades later), and the Infant Terrible is just that- terrible!- in a plot that Star Trek would later use to better effect; and Diablo has been cited as one of Stan and Jack's least favorite creations (although judging from all his return appearances, readers and creators disagreed!) but here he is in all his newlyinspired glory.
Despite the lack of innovation on the villain front, there is a new development which changes the team forever in the volume's second issue. Marvel had been long receiving letters disparaging Sue's place on the team (they even address it in the story back in issue 11!) so Stan and Jack add new powers to the Invisible Girl. In addition to beingable to turn herself invisible, she can now turn others invisible as well, but more importantly, she can create force fields! This one move changes her from the weakest member of the team to one of the most powerful characters in the Marvel Universe (later eras would make great use of this power.) Like Sue herself, Stan and Jack would take time todevelop this uber-powerful dimension in her powers.
Two Marvel crossovers of note include another classic showdown between the Hulk and the Thing, and a battleroyale alongside the Avengers. This story, in issue #26, is notable as the very first appearance in battleof Captain America as a full-fledged Avengers!
On the art side, Chic Stone takes over the inking duties from George Roussos (aka George Bell) with issue 28. Personally, I feel this is an improvement over Dick Ayers and George Roussos. Chic brings a clean style and heavy outlines that delineates Kirby's work beautifully (it also reproduces very well!). Chic defines the new look of the Fantastic Four until Joe Sinnott takes over with his own clean lines and portrait style work in Volume 5. But let's not get ahead of ourselves. Let's plow straight into Volume 3!
It's Clobberin' Time!
-- by Jonathan Clark, aka doesitmatter, with Gormuu
---
Issues Reprinted
Fantastic Four #21-30

Click on cover image to learn more about each issue.