GORMUU: Cory, here it is 2005, and Marvel Masterworks have come a very long way in a very short time. The line was alternately dormant or flailing around for a sense of identity for nearly ten years, but since you've come on board in 2003, the accomplishments have been many and major: we've gotten all the original books back into print, had nearly twenty new volumes published, and seen the establishment of a new line of Golden Age Masterworks. What with the recent announcement of a new matte paper stock being used for Masterworks, it hardly seems possible that there would be any major new announcements regarding this line of deluxe reprints.
But you know better! Why don't you go ahead and tell people what you've got up your sleeve with the next evolution in the Marvel Masterworks line.
CORY: Was it really only 2003? It seems like it's been far longer. I suppose because the line has come such a long way it feels like it's been years. It's great to see the "Little Hardcover Line That Could" that set the standard for our collections thriving like the Masterworks are right now. Although there's been much talk lately of our hitting Masterworks Vol. 50, the high-water mark for me will be coming in mid-2006 when we hit Vol. 64—doubling the entire line in two years.
With that kind of expansion, you have to build new rooms on the house to make room for the (spandex-clad) guests.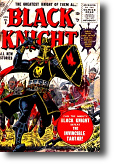 The Masterworks were launched with the first stories from the House of Ideas—Fantastic Four, Spider-Man, X-Men—the stories that made Marvel Comics "Marvel Comics." Just last year we issued the first Golden Age Masterworks featuring the original Timely Comics super heroes. And now, this January, we unveil the final wing on Chez Masterworks— the Atlas Era.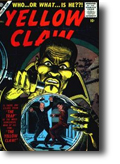 The Atlas Era Masterworks will include all the diverse characters and genres that came from the days when Marvel was called "Atlas Comics"—big monsters, westerns, jungle girls, romance, crime, war and sci-fi. It was a time period where the popularity of super heroes was waning, and publisher Martin Goodman tried every genre possible to see what might catch fire and become the next hot trend. Of all those many experiments one of the most fondly remembered has been the "big monster" stories of the late '50s, so what better to be our first Atlas Era Masterworks than the mother of all big monster books, Tales to Astonish Masterworks Vol. 1 by Lee, Kirby and Ditko?
GORMUU: Do you have a general idea about where you want to go with Atlas Era Masterworks? Or are you waiting to see sales results and fan reaction before investing any time into plotting out a future course?
CORY: Obviously, we'll be looking to hit the material featuring the more notable characters and creators first— the Kirby/Dikto big monster stories and the Atlas Era revivals of Captain America, the Sub-Mariner and the Human Torch all rank very high on the "To Do" list.
After Tales to Astonish we'll see what the reader response is, and which books may be more viable than others based off of the availability of materials, and plan from there. The good news is that our film warehouse was able to locate the majority of the materials for Tales to Astonish #1-10, so that bodes very well for future titles.
I'd love to get a companion Tales of Suspense volume out there to keep Astonish from getting too lonely, and Amazing Aventures/Amazing Adult Fantasy, the title that spawned Spider-Man, is another that I'd like to prioritize.
As always, the best way for readers interested in this material to let us know that they'd like to see more is to vote with their wallets! Second to that, they can visit www.marvelmasterworks.com and vote in the upcoming survey to let us know which Masterworks they'd like to see next from the Golden Age, Atlas Era and Marvel Age.
GORMUU: Yeah, we'll be getting the survey rolling somewhere around the 20th of October. I'm sure fans will be anticipating what their responses will be even more with this new information!
How will fans be able to differentiate between Atlas Era Masterworks and the regular editions? And will they also be numbered within the regular line of variant Masterworks, like the Golden Age Masterworks are?
CORY: The Atlas Era Masterworks will follow the same overall design style as the Golden Age and Marvel Masterworks. The regular edition of the book will feature a special metallic red ink and cover design with Atlas Era characters to set it apart from the gold and silver trade dress of the existing Masterworks. In addition, a variant of each Atlas Era will be offered in the "marble" dustjacket style. The variants will be numbered in sequence as part of the complete Masterworks library and strictly limited to order.
GORMUU: Tell us about the cool new foil frame you've instituted to surround the front cover image. I spot the Black Knight, Marvel Boy, Fin Fang Foom, Rawhide Kid, Yellow Claw, Captain America, and a couple figures that could stand in for romance or models, perhaps? And who's that bugger I see on the left side- is that who I think it is?
CORY: Selecting the artwork for the Atlas Era frame is one of the most entertaining parts of the job! Mark Beazley, Jeff Youngquist, Tom Brevoort and I got together at the office to come up with ideas and hash out who made the cut. I put on my Black Knight Brand thinking cap, Jeff doffed his cowboy hat, Mark sported fetching yellow claws, and Tom burst in saying "I Am The Thing From Another Dimension!" with his patented Goom Chompers™. We conferred in a fifth-dimensional language known only to a select few humans, and here are the results that make men scream:
Starting from the top-left and moving clockwise: the Rawhide Kid, the Black Knight, Patsy Walker, Mille the Model, the Yellow Claw, Fin Fang Foom, Captain America, Marvel Boy, and the one and only, Goom.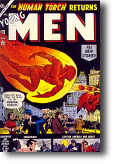 GORMUU: Who was on the shortlist for inclusion that didn't make the cut?
CORY: There were a few heroes and cowboys who didn't make the cut, like Two-Gun Kid, Apache Kid, Human Torch, Sub-Mariner— and then we had the great debate over whether to include Goom or Googam, Son on Goom. This is important stuff, y'know.
GORMUU: Amen, brother! My 'net handle is Gormuu, another Marvel Monster. Do you think that decision was arrived at overnight? No way! These are weighty matters!
So anyways, can we interpret that the characters on the foil frame are all on Marvel's radar screen for future Atlas Era Masterworks?
CORY: All the characters fit the time period that defines the Atlas Era. You'll get no complaints from us if reader demand gets all these guys, gals and unknowable things between a Masterworks hard cover!
GORMUU: Marvel's Director of Sales David Gabriel reported to MarvelMasterworks.com that the initial plan for 2006 would include 12 mainline Masterworks, 4 Golden Age books, and 2 genre books. Is this a pattern you see continuing in the future? Or are you bullish that Atlas Era can perhaps grow to equal Golden Age output?
CORY: Having seen the success that we did in 2005, it was clear that in 2006 we could begin to scratch a few itches, which brings you the two genre books (TALES TO ASTONISH, RAWHIDE KID). We didn't want to cut back on Golden Age books for 2006, so madmen that we are, we added the two genre books on top of the existing the schedule. If interest merits it and there's a clamoring for more Atlas Era or Golden Age material, we could easily mix up the slate. Heck, if Tales to Astonish blows our sales-socks off, who's to say those two books couldn't become more?
GORMUU: So to sum up, fans will be able to pretty much look at the year published to figure out if a book is Atlas Era or not- if it's from the 50s or is an early 60s non-superhero book, it's Atlas Era. Do I have that right?
CORY: Year of publication works as a pretty fair guide. The Atlas Era bridges roughly 1950 to 1961, but content is also a key identifier. Fantastic Four #1 ushered in a new style of writing and a new type of character. Content fitting that style- like Rawhide Kid- is Marvel Age lock, stock and barrel, whereas back-up stories from Tales to Astonish circa 1963 may still be Atlas Era content in their style of writing and illustration even though they pass the 1961 mark.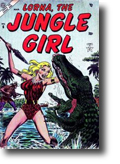 GORMUU: So Sgt. Fury will he fall into the line of regular "Marvel Age" Masterworks?
CORY: Sgt. Fury debuted in 1963, Stan and Jack all the way, so he's part and parcel of the Marvel Age.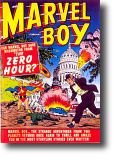 To clarify the thinking here, say with Rawhide Kid, for instance, the series debuted in 1955 with an issue #1 and then ceased publication in 1957 with #16. Three years later the series was brought back as a Lee/Kirby collaboration and ran for over a decade with new stories, and nearly another decade as a reprint series. Now, there's no question that the Atlas Era was long gone by 1971, so the Lee/Kirby second Rawhide Kid series falls under the Marvel Age, while the original series falls under the Atlas Era.
GORMUU: At the recent Diamond Comics Retailer Summit in Baltimore, Rawhide Kid showed up on a slide show promoting the 2006 slate of Masterworks. Can you shed a little light on what you have planned for Rawhide Kid, and when fans can expect to see his first volume?
CORY: We haven't set a date in stone yet for Rawhide Kid Vol.1. Right now it's looking like it will mosey your way in the second half of '06.
---
For an up close look at the first Atlas Era Masterworks volume, check out the preview page for TALES TO ASTONISH VOL. 1. But don't forget, that's not the only Masterworks volume to be published in January! While you're checking out the preview page for Tales to Astonish, make sure to stop by the preview page for...awww, now that would be tellin'! Well, you can find out at THIS LINK!

And for a near-comprehensive resource for getting a grip on what Marvel has at their disposal with Golden Age, Atlas Era, and Marvel Age Masterworks, be sure to check out MarvelMasterworks.com's WHAT IF? LIBRARY, where we chart out maps of potential Masterworks volumes of the future!
---
All cover images are courtesy of the Silver Age Marvel Comics Cover Gallery.
Website design by Doug Roberts and John Thomas. All images on this site are copyright of Marvel Comics. This site is for reference purposes and promotion of the Masterworks line of books as well as Marvel Comics and their properties.