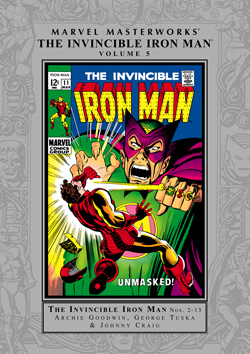 Iron Man Masterworks Vol. 5
Regular Edition Cover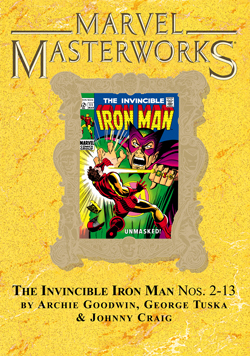 Vol. 107: Iron Man Masterworks
Variant Edition Cover
Click panels for larger images _________________________

ADVANCED IRON
The original, longest-running, and greatest Iron Man fan magazine in the world - online!


BOB LAYTON OFFICIAL WEBSITE
Take a look at the website of perhaps the definitive Iron Man artist.


THE POWER OF IRON MAN
Another cool fansite with a focus on Iron Man's armor.

---
Marvel Masterworks: Iron Man Volume 5

Reprints: Iron Man #2-13

(Vol. 107 in the Marvel Masterworks Library)

Most Recent Print Edition: First Print
Original Release Date: November 19, 2008

REGULAR ISBN: 978-0-7851-3493-0 • List Price: $54.99
VARIANT ISBN: 978-0-7851-3494-7 • List Price: $54.99
VARIANT PRINT RUN: TBA

272 Pages

Scripted by Archie Goodwin

Pencils by George Tuska and Johnny Craig

Introduction by TBA

On Sale: MASTERWORKS LIST
---
TAKE A BOW, IRON MAN, IT'S YOUR FIFTH MASTERWORKS!
"Step back from the big screen and jump into the tales that made Marvel's Iron Avenger one of the world's most-famous super heroes! It's a new era for comics' most of sophisticated scientist/socialite, Tony Stark, as Archie Goodwin, E.C. Comics great, Johnny Craig, and the iron man of Iron Man illustrators, George Tuska, take you on an amazing set of adventures!
Just to warm you up we've got Happy Hogan is transformed into The Freak, one of Iron Man's earliest enemies back to settle a score, a wild adventure into the far-flung future, and a good ol' fashioned bash-'em-up with the Crusher teamed with a twisted-metal duel with the buzzsaw blades of the Gladiator.
And now, the main course! Iron Man's oldest and evilest of enemies, the Mandarin, returns and pushes the Golden Gladiator to the breaking point. First, he pits Iron Man against the Incredible Hulk in a battle of the titans that only one will walk away from, and then he tears him down with his discovery that Tony Stark is Iron Man! It's an all-time Iron Man classic that's so great that for good measure, we're also bringing you the carnage of the Controller, a threat so great that it brings Iron Man together with Nick Fury, Agent of S.H.I.E.L.D. to stop it!"
Collecting IRON MAN #2-13
(from the official Marvel solicit)
---
Issues Reprinted
Iron Man #2-13